HYDRAULIC LEVER CLAMP CLF5H
Product Features:

The Lever Clamp is a double-acting Hydraulic Cylinder with several installation and connection options.
It is used for clamping of workpieces when clamping points for loading and unloading of the equipment need to be free.
Key Features:

- double-acting
- max. operating pressure 70 bar
- min. operating pressure 5 bar
The Clamping arm of this product is very felxible. It can reduce the influence of surrounding devices and therefore save workplace.
Remark:
The actual clamping force amounts 60-70 % of the theoretical clamping force. High temperature-oil sealings are available on request.
MODELLNR./

model no

MAX. SPANNKRAFT/


max. clamping force [kN]

SPANNHUB/

clamping stroke

[mm]

GESAMTHUB/

total stroke [mm]

ÖLBEDARF, SPANNEN/

oil requirement,


clamping


[cm3]

ÖLBEDARF,

ENTSPANNEN/

oil requirement,

unclamping


[cm3]

KOLBENFLÄCHE,

SPANNEN/

piston area, clamping

[cm²]

KOLBENFLÄCHE,

ENTSPANNEN/

pistion area, unclamping

[cm²]

TEMPERATUR-BEREICH/

range of temperature

(℃)

CLF5H-25
2,90
31,5
34
16,694
11,458
4,91
3,37
-10~+70℃   
CLF5H-32
4,41
35,5
38
30,552
25,08
8,04
6,6
CLF5H-40
7,09
41
44
55,264
46,464
12,56
10,56
CLF5H-50
11,36
47
50
98,15
82,45
19,63
16,49
|   | A | B | C | D | E | F | G | H | I | J | K | L | M | N | Q | S | T | U | W |
| --- | --- | --- | --- | --- | --- | --- | --- | --- | --- | --- | --- | --- | --- | --- | --- | --- | --- | --- | --- |
| CLF5H-25 | 70 | 59,5 | 14 | 47 | 21 | 40 | 50 | 25 | 25 | 50 | 30,5 | 11,5 | 13,5 | 12 | 12 | 5 | 6 | 56,5 | 13 |
| CLF5H-32 | 75 | 70,5 | 14 | 55 | 21 | 47 | 59 | 29,5 | 29,5 | 59 | 30,5 | 11,5 | 15,5 | 16 | 14 | 5 | 8 | 60 | 13 |
| CLF5H-40 | 89,5 | 79,5 | 16 | 65 | 25 | 55 | 69 | 34,5 | 34,5 | 69 | 37,5 | 13,5 | 20,5 | 20 | 20 | 6 | 10 | 72 | 16 |
| CLF5H-50 | 101,5 | 86,5 | 20 | 80 | 28 | 67 | 84 | 42 | 42 | 84 | 43,5 | 15,5 | 22,5 | 24 | 21 | 6 | 12 | 83 | 17,5 |
| | AA | AB | AC | AD | AE | AF | AG | AH | AI | AJ | AK | AL | AM | AR | AT |
| --- | --- | --- | --- | --- | --- | --- | --- | --- | --- | --- | --- | --- | --- | --- | --- |
| CLF5H-25 | 5,5 | 9,5 | PT1/8 | 22 | 12 | 8 | 19 | 23 | 88 | 13 | 13,5 | 18 | 4 | 20 | 12 |
| CLF5H-32 | 6,6 | 11 | PT1/8 | 28 | 16 | 12 | 21,5 | 28 | 95 | 15 | 15 | 20 | 4 | 23 | 11 |
| CLF5H-40 | 9 | 14 | PT1/4 | 36 | 19 | 14 | 24,5 | 31 | 117,5 | 18 | 17,5 | 28 | 4 | 28 | 18 |
| CLF5H-50 | 11 | 18 | PT1/4 | 42 | 22 | 16 | 30 | 37 | 132,5 | 22 | 19 | 31 | 4 | 34 | 15 |
CLF5H (G)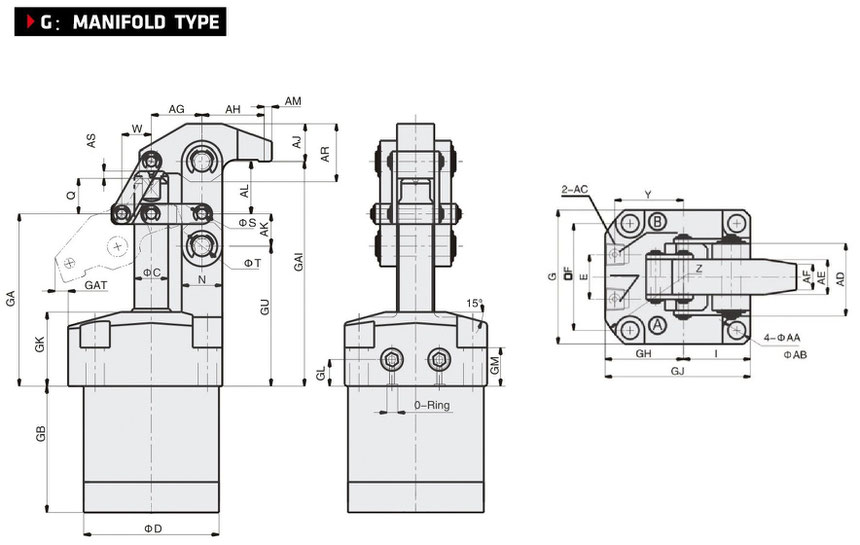 |   | GA | GB | C | D | E | F | G | GH | I | GJ | GK | GL | GM | N | Q | S | T | GU | W | O-Ring | Y | Z |
| --- | --- | --- | --- | --- | --- | --- | --- | --- | --- | --- | --- | --- | --- | --- | --- | --- | --- | --- | --- | --- | --- | --- |
| CLF5H-25G | 70,5 | 59 | 14 | 47 | 21 | 40 | 50 | 35 | 25 | 60 | 31 | 12 | 18 | 12 | 12 | 4 | 6 | 57 | 13 | S4 | 29 | 39 |
| CLF5H-32G | 75,5 | 70 | 14 | 55 | 21 | 47 | 59 | 37,5 | 29,5 | 67 | 31 | 12 | 17 | 16 | 14 | 5 | 8 | 60,5 | 13 | S4 | 32 | 43 |
| CLF5H-40G | 90 | 79 | 16 | 65 | 25 | 55 | 69 | 45,5 | 34,5 | 80 | 38 | 14 | 21 | 20 | 20 | 6 | 10 | 72,5 | 16 | S4 | 37 | 51 |
| CLF5H-50G | 102 | 86 | 20 | 80 | 28 | 67 | 84 | 51 | 42 | 93 | 44 | 16 | 23 | 24 | 21 | 6 | 12 | 83 | 17,5 | S5 | 44 | 57 |
| | AA | AB | AC | AD | AE | AF | AG | AH | GAI | AJ | AK | AL | AM | AR | GAT |
| --- | --- | --- | --- | --- | --- | --- | --- | --- | --- | --- | --- | --- | --- | --- | --- |
| CLF5H-25G | 5,5 | 9,5 | PT1/8 | 22 | 12 | 8 | 19 | 23 | 88,5 | 13 | 13,5 | 18 | 4 | 20 | 2 |
| CLF5H-32G | 6,6 | 11 | PT1/8 | 28 | 16 | 12 | 21,5 | 28 | 95,5 | 15 | 15 | 20 | 4 | 23 | 3 |
| CLF5H-40G | 9 | 14 | PT1/4 | 36 | 19 | 14 | 24,5 | 31 | 118 | 18 | 17,5 | 28 | 4 | 28 | 7 |
| CLF5H-50G | 11 | 18 | PT1/4 | 42 | 22 | 16 | 30 | 37 | 133 | 22 | 19 | 31 | 4 | 34 | 6 |
Dimensions and technical data are subject to change without notice