HYDRAULIC SUPPORT ELEMENT CSF
Features:
- Double acting
- Max. operating pressure 70 bar
- Min. operating pressure 20 bar
This series of products with compact structure, reasonable design, long service life, in 2-7Mpa working conditions, can keep stable performance. According to the different thickness of work piece, which can adjust the piston rod out spring strength.
Piston rod out of contact force is small, 3,9 - 7,85 N/cm2 range, suitable for all kinds of work piece.
This product support power is large, can eliminate mechanical load and working vibration in the cutting process.
MODELLNR./

model no

MAX. SPANNKRAFT/

max. clamping force [kN]

MIN. SPANNKRAFT/

min. clamping force [kN]

HUB/

stroke [mm]

ÖLBEDARF/

oil requirement

[cm3]

KOLBENFLÄCHE,

SPANNEN/

piston area, clamping

[cm²]

CSF-040AL
3,2
0,5
8
0,6
1,77
CSF-040BL
3,2
0,5
8
0,6
1,77
CSF-048AL
4,8
0,6
10
1,3
2,01
CSF-048BL
4,8
0,6
10
1,3
2,01
CSF-055AL
9
0,8
12
2
3,14
CSF-055BL
9
0,8
12
2
3,14
CSF-065AL
18
0,95
14
3,3
3,80

CSF-065BL

18
0,95
14
3,3
3,80
CSF-075AL
23
1,3
16
5,7
4,91
CSF-075BL
23
1,3
16
5,7
4,91
CSF-090AL
30
1,55
20
9,1
7,07
CSF-090BL
30
1,55
20
9,1
7,07
| | | | | | | | | | | | | | | | | | | | | | | | |
| --- | --- | --- | --- | --- | --- | --- | --- | --- | --- | --- | --- | --- | --- | --- | --- | --- | --- | --- | --- | --- | --- | --- | --- |
| MODELLNR./model no | A | B | C | D | E | F | G | H | J | K | L | M | Nx | Ny | P | Q | R | S | T | U | V | W | X |
| CSF-040AL | 75 | 54 | 45 | 40 | 56 | 31 | 25 | 31,5 | 22,5 | 34 | 68 | 11 | 26 | 5 | 3 | 9,5 | 5,5 | 14,5 | 19 | 15 | 6 | 13 | M10x11 |
| CSF-040BL | 67 | 54 | 45 | 40 | 56 | 31 | 25 | 31,5 | 22,5 | 34 | 68 | 11 | 26 | 5 | 3 | 9,5 | 5,5 | 14,5 | 11 | 15 | 6 | 13 | M10x11 |
| CSF-048AL | 85 | 61 | 51 | 48 | 64 | 39 | 25 | 35,5 | 25,5 | 40 | 73 | 11 | 30 | 0 | 3 | 9,5 | 5,5 | 13,5 | 21 | 16 | 6 | 13 | M10x11 |
| CSF-048BL | 75 | 61 | 51 | 48 | 64 | 39 | 25 | 35,5 | 25,5 | 40 | 73 | 11 | 30 | 0 | 3 | 9,5 | 5,5 | 13,5 | 11 | 16 | 6 | 13 | M10x11 |
| CSF-055AL | 97 | 69 | 60 | 55 | 70 | 45 | 25 | 39 | 30 | 47 | 80 | 11 | 33,5 | 0 | 3 | 11 | 6,8 | 11,5 | 27 | 20 | 8 | 17 | M12x13 |
| CSF-055BL | 85 | 69 | 60 | 55 | 70 | 45 | 25 | 39 | 30 | 47 | 80 | 11 | 33,5 | 0 | 3 | 11 | 6,8 | 11,5 | 15 | 20 | 8 | 17 | M12x13 |
| CSF-065AL | 115 | 81 | 70 | 65 | 85 | 56 | 29 | 46 | 35 | 55 | 94 | 11 | 39,5 | 0 | 5 | 11 | 6,8 | 14,5 | 30 | 22 | 9 | 19 | M12x13 |
| CSF-065BL | 101 | 81 | 70 | 65 | 85 | 56 | 29 | 46 | 35 | 55 | 94 | 11 | 39,5 | 0 | 5 | 11 | 6,8 | 14,5 | 16 | 22 | 9 | 19 | M12x13 |
| CSF-075AL | 142 | 92 | 80 | 75 | 107 | 72 | 35 | 52 | 40 | 63 | 106 | 13 | 45 | 0 | 5 | 14 | 9 | 17 | 35 | 25 | 9 | 22 | M16x20 |
| CSF-075BL | 126 | 92 | 80 | 75 | 107 | 72 | 35 | 52 | 40 | 63 | 106 | 13 | 45 | 0 | 5 | 14 | 9 | 17 | 19 | 25 | 9 | 22 | M16x20 |
| CSF-090AL | 169 | 107 | 95 | 90 | 128 | 88 | 40 | 59,5 | 47,5 | 75 | 126 | 13 | 52,5 | 0 | 5 | 17,5 | 11 | 18 | 41 | 30 | 10,5 | 24 | M16x20 |
| CSF-090BL | 149 | 107 | 95 | 90 | 128 | 88 | 40 | 59,5 | 47,5 | 75 | 126 | 13 | 52,5 | 0 | 5 | 17,5 | 11 | 18 | 21 | 30 | 10,5 | 24 | M16x20 |
MODELLNR./model no
Yx
Yy
Z
BA
BB
BC
JA
ST
JB
Hydraulic Port

O-Ring

(-C/-G Type)

 

VENT PORT BSPT

(RC-THREAD)

 
-C type
-S type
CSF-040AL
25
8
C1
14,5
4
13
3
8
16
G1/8
G1/8
P5
PT1/8
CSF-040BL
25
8
C1
12,5
4
11
3
8
11
G1/4
G1/8
P5
PT1/8
CSF-048AL
28
11
C3
15,5
4
14
3
10
17
G1/4
G1/8
P5
PT1/8
CSF-048BL
28
11
C3
12,5
4
11
3
10
11
G1/4
G1/8
P5
PT1/8
CSF-055AL
31
13
R40
19
6
17
3
12
17
G1/4
G1/8
P5
PT1/8
CSF-055BL
31
13
R40
16,5
6
14
3
12
11
G1/4
G1/8
P5
PT1/8
CSF-065AL
37
14
R47
21
6
19
3
14
17
G1/4
G1/8
P7
PT1/8
CSF-065BL
37
14
R47
16,5
6
14
3
14
11
G1/4
G1/8
P7
PT1/8
CSF-075AL
42,5
15
R53
24
9
21
3
16
17
G1/4
G1/4
P7
PT1/8
CSF-075BL
42,5
15
R53
21,5
9
19
3
16
13
G1/4
G1/4
P7
PT1/8
CSF-090AL
50
15
R63
28
9
24
3
20
17
G1/4
G1/4
P7
PT1/8
CSF-090BL
50
15
R63
21,5
9
19
3
20
17
G1/4
G1/4
P7
PT1/8
Hydraulic extended piston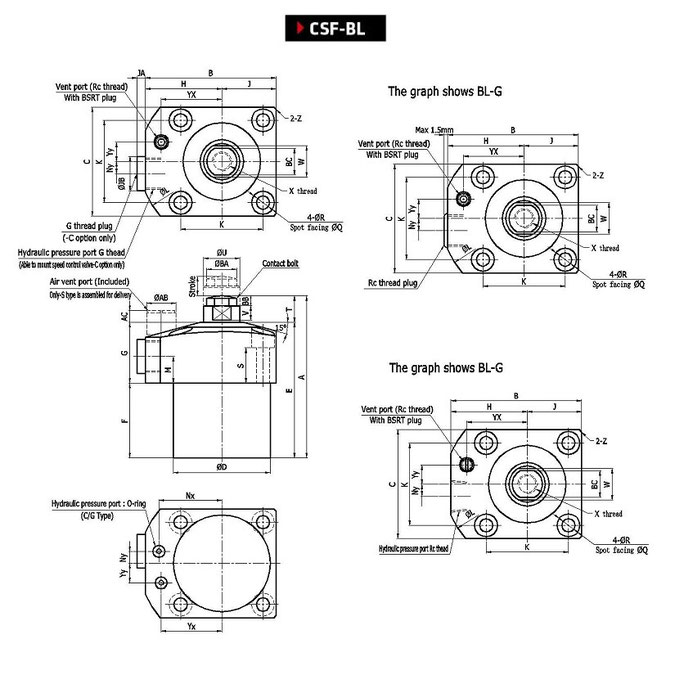 Dimensions and technical data are subject to change without notice