HYDRAULIC SWING CLAMP CHS
Features:
The product is ideal for mass production on a special purpose machine and jig in machining center. It will upgrade the production efficiency. When the hydraulic clamp actuates and the piston moves downward, the clamping arm  will swing to a rated angle.
Then it lowers until the workpiece is clamped securely. To avoid too fast motion, a flow control valve it is suggested to connect to the hydraulic swing clamp cylinder.
Do not clamp workpiece while the clamp is swinging to avoid damaging the cylinder barrel and internal parts.
The cylinder body is manufactured from structural carbon steel. Inside surface is specially treated for maximum smoothness and long service life.
-Max. operating pressure: 70 bar

-Min. operating pressure: 10  bar

-Double acting 
Note:
When increasing length of clamping arm is required, be sure not to exceed 1.5 times of the original length.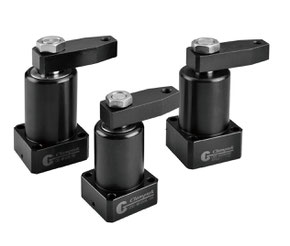 MODELLNR./

model no

MAX. SPANNKRAFT/

max. clamping force [kN]

 SCHWENKHUB/

swing stroke [mm]


SPANNHUB/

clamping stroke [mm]


 ERW. SPANNHUB/

extended clamping stroke [mm]


GESAMTHUB/ total stroke [mm]


ERW. GESAMTHUB/

extended total stroke [mm]


 ÖLBEDARF SPANNEN/

oil requirement clamping [cm³]


 ERW. ÖLBEDARF SPANNEN/

extended oilrequirement clamping [cm³]


CHS-25
1,69
9
13
-
22
-
10,80
-
CHS-32
3,50
11
15
30
26
41
20,90
32,96
CHS-40
6,15
11
15
30
26
41
32,66
51,50
CHS-50
9,62
13
17
34
30
47
58,89
92,26
CHS-63
15,18
13
17
34
30
47
93,48
146,45
MODELLNR./

model no

ÖLBEDARF ENTSPANNNEN/

oil requirement unclamping [cm³]


ERW. ÖLBEDARF ENTSPANNEN/

oil requirement unclamping [cm³]


KOLBENFLÄCHE SPANNEN/

piston area clamping [cm²]


 KOLBENFLÄCHE ENTSPANNEN/

piston area unclamping [cm²]


TEMPERATURBEREICH/

range of temperature  (°C)


CHS-25
5,21
-
4,91
2,37
-10 ~ 60 °C   
CHS-32
12,74
20,09
8,04
4,9
CHS-40
22,41
35,34
12,56
8,62
CHS-50
40,41
63,31
19,63
13,47
CHS-63
63,78
99,92
31,16
21,26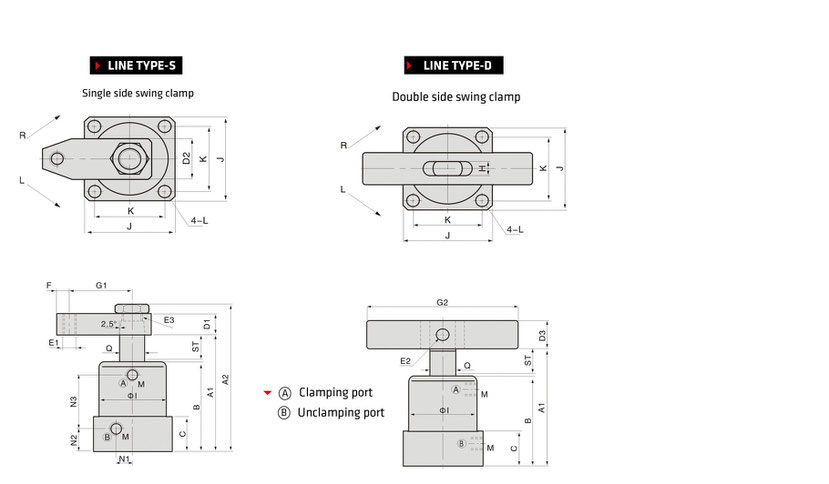 Typ/type :                                       Typ/type :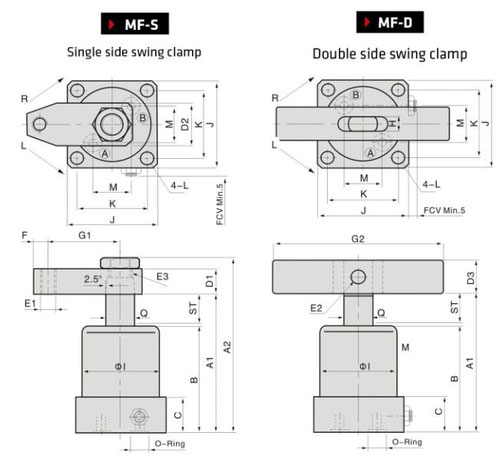 MODELLNR./

model no


ST:Swing/

Clamping

A1 Unclamp
A2 Unclamp
B
C
D1
D2
D3
E1
E2
E3
F
G1
G2
H
I
CHS
HSC
CHS
HSC
CHS-25
22:9/13
104
101
127
124
76
27
16
27
19x19
M10
φ8
M14x1,5
10
50
140
9
φ46
CHS-32 
26:11/15
118
115
144
140
85
30 
18 
31 
22x22
 
M10 
φ8 
M16×1.5
10 
55 
160 
10 
φ50 
41:11/30
148
145
175
170
100
CHS-40 
26:11/15
123
120
150
148
90
30 
18 
31 
22x22
 
M10 
φ10 
M18×1.5
10 
60 
160 
10 
φ54 
41:11/30
153
150
180
178
105
CHS-50 
30:13/17
137
134
167
166
100
34 
20 
37 
25x25

M12 
φ12 
M20×1.5
12 
65 
180 
12 
φ66 
47:13/34
171
168
201
200
117
CHS-63 
30:13/17
142
139
177
175
105
34 
23 
48 
32x32

M16 
φ15 
M24×2
15 
75 
200 
15 
φ80 
47:13/34
176
173
211
209
122
CHS-MF25
22:9/13
104
101
127
124
76
22
16
27
19x19
M10
φ8
M14×1.5
10
50
140
9
φ46
CHS-MF32 
26:11/15
118
115
144
140
85
25 
18 
31 
22x22

M10 
φ8
M16×1.5
10 
55 
160 
10 
φ50 
41:11/30
148
145
175
170
100
CHS-MF40 
26:11/15
123
120
150
148
90
25 
18 
31 
22x22

M10 
φ10
M18×1.5 
10 
60 
160 
10 
φ54 
41:11/30
153
150
180
178
105
CHS-MF50 
30:13/17
137
134
167
166
100
30 
20 
37 
25x25
M12 
φ12
M20×1.5 
12 
65 
180 
12 
φ66 
47:13/34
171
168
201
200
117
CHS-MF63 
30:13/17
142
139
177
175
105
30 
23 
48 
32x32
M16 
φ15
M24×2
15 
75 
200 
15 
φ80 
47:13/34
176
173
211
209
122


F

G1

G2

H

I

J

K

L

M

N1

N2

N3

O-Ring

Q

CHS-25

10

50

140

9

φ46
52

40

φ6.8
PT1/8

8

17

46

-

φ18
CHS-32 
10 
55 
160 
10 
φ50 
56 
44 
φ6.8 
PT1/8 
10 
19 
52
- 
φ20 
67
CHS-40
10 
60 
160 
10 
φ54 
63 
48 
φ9 
PT1/8 
12 
19 
57
- 
φ22.4 
72
CHS-50 
12 
65 
180 
12 
φ66 
72 
57 
φ9 
PT1/4 
15 
21,5 
63,5
- 
φ28 
80,5
CHS-63 
15 
75 
200 
15 
φ80 
88 
70 
φ11 
PT1/4 
17 
22 
68
- 
φ35.5 
85
CHS-MF25
10
50
140
9
φ46
55
42
φ6.8
19
-
-
-
P7
φ18
CHS-MF32 
10 
55 
160 
10 
φ50 
57 
44 
φ6.8 
21 
- 
- 
- 
P7 
φ20
 
CHS-MF40 
10 
60 
160 
10 
φ54 
63 
48 
φ9 
23 
- 
- 
- 
P9 
φ22.4
 
CHS-MF50 
12 
65 
180 
12 
φ66 
72 
57 
φ9 
28 
- 
- 
-
P9 
φ28 
 
CHS-MF63 
15 
75 
200 
15 
φ80 
88 
70 
φ11 
32 
- 
- 
- 
P9 
φ35.5 
                                         Typ/type :                                                                  Typ/type :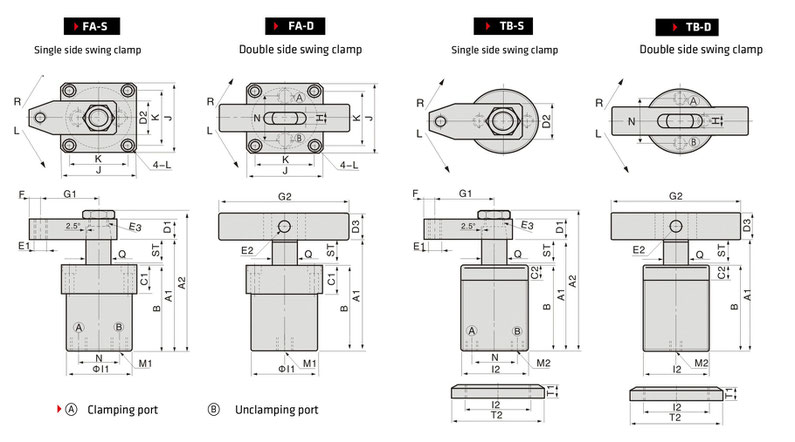 Typ/type :                                 Typ/type :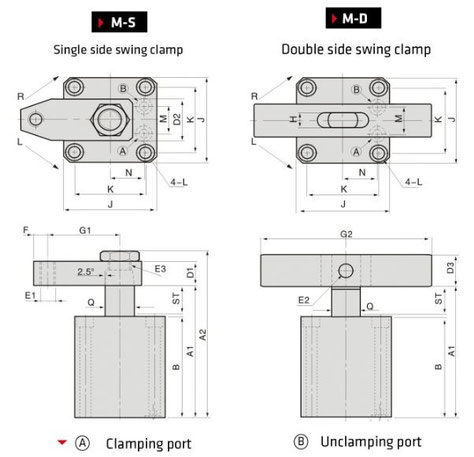 MODELLNR./

model no

ST:Swing/

Clamping

A1 Unclamp
A2 Unclamp
B
C1
C2
D1
D2
D3
E1
E2
E3
F
G1
G2
H
CHS
HSC
CHS
HSC
CHS-FA25
22:9/13
104
101
127
124
76
22
12
16
27
19x19
M10
φ8
M14x1.5
10
50
140
9
CHS-FA32
26:11/15
118
115
144
140
85
25
12
18
31
22x22
M10
φ8
M16×1.5
10
55
160
10
CHS-FA40
26:11/15
123
120
150
148
90
25
15
18
31
22x22

M10
φ10
M18×1.5
10
60
160
10
CHS-FA50
30:13/17
137
134
167
166
100
30
15
20
37
25x25

M12
φ12
M20×1.5
12
65
180
12
CHS-FA63
30:13/17
142
139
177
175
105
30
-
-
48
32x32

M16
φ15
M24×2
15
75
200
15
CHS-TB25
22:9/13
104
101
127
124
76
22
12
16
27
19x19

M10
φ8
M14×1.5
10
50
140
9
CHS-TB32
26:11/15
118
115
144
140
85
25
12
18
31
22x22

M10
φ8
M16×1.5
10
55
160
10
CHS-TB40
26:11/15
123
120
150
148
90
25
15
18
31
22x22

M10
φ10
M18×1.5
10
60
160
10
CHS-TB50
30:13/17
137
134
167
166
100
30
15
20
37
25x25

M12
φ12
M20×1.5
12
65
180
12
MODELLNR./

model no


I1

I2

J

K

L

M1

M2

N

T1x2PCS

T2

Q

CHS-FA25

φ45
M45x1.5

53

40

φ6.8-φ10.5×6.5D
PT1/4

PT1/8

28

10

φ65
φ18
CHS-FA32

φ50
M50×1.5
57
44
φ6.8-φ10.5×6.5D
PT1/4
PT1/8
32
11
φ70
φ20
CHS-FA40

φ58
M55×1.5
69
52
φ9-φ13.5×9D
PT1/4
PT1/8
40
11
φ70
φ22.4
CHS-FA50

φ68
M65×1.5
75
58
φ9-φ13.5×9D
PT1/4
PT1/8
50
12
φ85
φ28
CHS-FA63

φ81
-
90
70
φ11-φ17×11D
PT1/4
-
63
-
-
φ35.5
CHS-TB25

φ45
M45×1.5
53
40
φ6.8-φ10.5×6.5D
PT1/4
PT1/8
28
10
φ65
φ18
CHS-TB32

φ50
M50×1.5
57
44
φ6.8-φ10.5×6.5D
PT1/4
PT1/8
32
11
φ70
φ20
CHS-TB40

φ58
M55×1.5
69
52
φ9-φ13.5×9D
PT1/4
PT1/8
40
11
φ70
φ22.4
CHS-TB50

φ68
M65×1.5
75
58
φ9-φ13.5×9D
PT1/4
PT1/8
50
12
φ85
φ28
MODELLNR./

model no


ST:Swing/

Clamping


A1 Unclamp
A2 Unclamp

B

D1

D2

D3

E1

E2

E3

F

G1

G2

H

J

K

L

M

N

O-Ring

Q

CHS

HSC

CHS

HSC

CHS-M25

22:9/13

104

101

127

124

76

16

27

19x19

M10

φ8
M14x1.5

10

50

140

9

55

42

φ6.8-φ10.5×6.5D
18

20

P7

φ18
CHS-M32
26:11/15
118
115
144
140
85
18
31
22x22

M10
φ8
M16×1.5
10
55
160
10
57
44
φ6.8-φ10.5×6.5D
22
22
P7
φ20
CHS-M40
26:11/15
123
120
150
148
90
18
31
22x22

M10
φ10
M18×1.5
10
60
160
10
69
52
φ9-φ13.5×9D
26
26
P8
φ22.4
CHS-M50
30:13/17
137
134
167
166
100
20
37
25x25

M12
φ12
M20×1.5
12
65
180
12
75
58
φ9-φ13.5×9D
32
30
P8
φ28
                                        Typ/type :                                                                     Typ/type :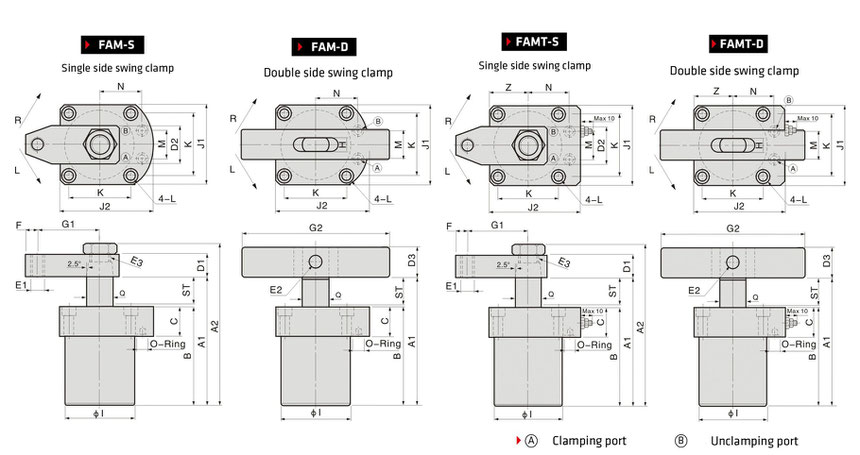 MODELLNR./

model no


ST:Swing/

Clamping


A1 Unclamp

A2 Unclamp

B

C

D1

D2

D3

E1

E2

E3

F

CHS

HSC

CHS

HSC

CHS-FAM25

22:9/13

104

101

127

124

76

22

16

27

19x19

M10

φ8
M14x1.5

10

CHS-FAM32
26:11/15
118
115
144
140
85
25
18
31
22x22

M10
φ8
M16×1.5
10
CHS-FAM40
26:11/15
123
120
150
148
90
25
18
31
22x22

M10
φ10
M18×1.5
10
CHS-FAM50
30:13/17
137
134
167
165
100
30
20
37
25x25

M12
φ12
M20×1.5
12
MODELLNR./

model no


G1
G2

H

I

J1

J2
K
L

M

N

O-Ring

Q

CHS-FAM25

50

140
9
φ45
55
64
42
φ6.8-φ10.5×6.5D
20
28
P6
φ18
CHS-FAM32

55
160
10
φ50
57
65,5
44
φ6.8-φ10.5×6.5D
22
29
P6
φ20
CHS-FAM40

60
160
10
φ58
69
79
52
φ9-φ13.5×9D
26
34,5
P9
φ22.4
CHS-FAM50

65
180
12
φ68
75
87
58
φ9-φ13.5×9D
30
39
P9
φ28
MODELLNR./

model no


ST:Swing/

Clamping


A1 Unclamp

A2 Unclamp

B

C

D1

D2

D3

E1

E2

E3

F

G1

G2

CHS-FAMT25

22:9/13

104

127

76

22

16

27

19x19

M10

φ8
M14x1.5

10

50

140

CHS-FAMT32
26:11/15
118
144
85
25
18
31
22x22

M10
φ8
M16×1.5
10
55
160
CHS-FAMT40
26:11/15
123
150
90
25
18
31
22x22

M10
φ10
M18×1.5
10
60
160
CHS-FAMT50
30:13/17
137
167
100
30
20
37
25x25

M12
φ12
M20×1.5
12
65
180
MODELLNR./

model no


H

I

J1

J2

K

L

M

N

O-Ring

Q

Z

CHS-FAMT25

9
φ45
55
64
42
φ6.8-φ10.5×6.5D
20
28
P6
φ18
27,5
CHS-FAMT32

10
φ50
57
65,5
44
φ6.8-φ10.5×6.5D
22
29
P6
φ20
28,5
CHS-FAMT40

10
φ58
69
77
52
φ9-φ13.5×9D
26
34,5
P6
φ22.4
34,5
CHS-FAMT50

12
φ68
75
87
58
φ9-φ13.5×9D
30
39
P9
φ28
37,5
Dimensions and technical data are subject to change without notice